Many diverse industries have been cultivated in the Suwa region, from the silk industry to precision manufacturing where the fabrication of watches, cameras and music boxes is especially abundant. Among these, Suwa is most renown for music box production as, at its peak, there was one music box manufactured every second and the region enjoyed a global market share of over 90% such that it was often said that nearly every music box in the world was produced in Suwa.
However, currently the number of music box manufacturers is decreasing and global market share is only about 30% such that the Suwa region now mostly produces music boxes for Japanese consumption and luxury music boxes.
Accordingly, in the quest to revive the craftsmanship of Suwa embodied by the music boxes of Suwa, presented here are various efforts related to the creation of prototype music boxes that will function as new concepts leading Suwa to recover the title of the "singular" music box producer in the world.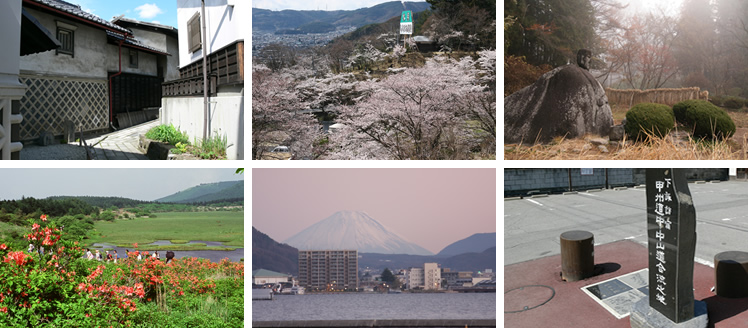 Shimosuwa-machi is located practically in the center of Nagano prefecture and is bordered to the south by the shore of Lake Suwa, Okaya City to the west, Suwa City to the east, and Matsumoto City and Nagawa-machi to the north.
Shimosuwa-machi dates far back in history all the way to the Stone Age and Jomon Period, when it was known for obsidian production. During the Yayoi Period, the techniques for the planting of rice became widespread and rice was planted on the banks of Lake Suwa, resulting in the flourishing of a fishing-based culture. The region developed politically and culturally during the Kamakura Period with Kanasashi-no-Morizumi and Tezuka Taro Mitsumori, the Ohori ("living gods") of the Suwa-Taisha Shrine actively serving Kiso Yoshinaka and the Kamakura Shogunate, while the chief priest of Kamakura Gozan Kencho-ji Temple founded the Jiun-ji Temple and military commanders from all across the country gathered at the Yabusame Festival (Shinto ritual combining archery and horseback riding) held at the Suwa Shrine. During the warring states period, the relationship with Takeda Shingen deepened, such that even today the historical landmarks and culture of that time are commemorated in all parts of the town.
During the Edo Period, the region become a key transportation hub with the linking of the Nakasendo and Koshu Kaido (two important land routes of the time), while it was also active and prosperous due to being the preeminent hot springs hotel area along the Nakasendo. It also flourished thanks to the powerful Suwa Shrine, a main shrine with some 10,000 branch shrines across the country, with the town forming around the shrine.