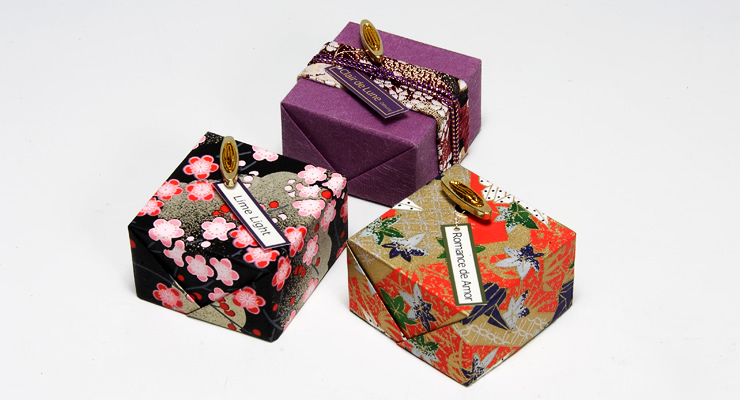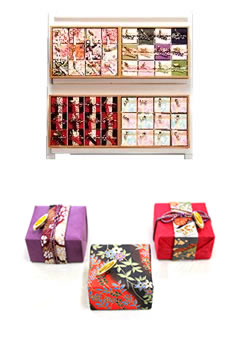 Ready-wrapped present !
Combining musical tunes with various types of wrapping paper including kimono designs using traditional Japanese washi and chiyogami paper and heart patterns in blue and pink, these gift boxes can be developed in a variety of ways.
Aim of Product Development
Through combining with approximately 600 tunes, we aim to create products that can stand as individual objects or be used in a musical series combined with sets of sweets or sake, wrapped according to original designs selected by the customer. In order to improve ease of use, we have positioned the spring winding key on the surface and are also considering ways to incorporate this into the design.
Evaluation and Future Issues
At the exhibition in Paris, the Japanese style designs were most popular and the assortment of tunes and prices were well received.Issues for future improvement include small lot production, creation of original designs and combinations with other products.
Size

W:60mm D:60mm H:35mm

Net weight

95g

Model type and drive source

Coil spring
Has the advantage that customers can select the music by the tune of the music box.
Select from SOMEI-KAN's 18-note TUNE LIST which is shown at the end of this pamphlet.
Mini Gift-Wrapped Music Box is assembled at SOMEI-KAN workshop. Musical movement is also hand-assembled with craftsmanship.
Custom Design is also available. Contact us for more information.