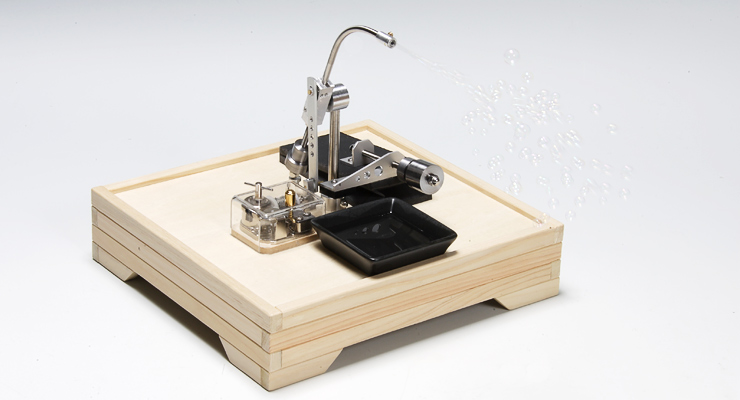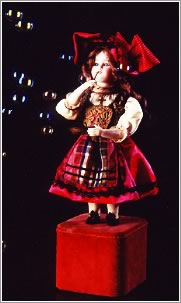 "Automata" used to be manufactured in France in the past.
We have created assembly kits from the movements with the hidden music boxes as a drive source, and converted them into a commercial reality.
While attaching a crank and cam to the music box coil spring and achieving balance with a weight, the vertical motion of the arm and bellows is controlled with good timing.
It is fun to see blowing bubbles with the precise motions, as well as the beautiful finish on the metal work inside.
Aim of Product Development
Through placing the music box mechanism and metal components on the front, we strive to give the impression of a precise Suwa music box and are hoping to develop a series of assembly kits with fun-filled moving parts geared to mechanical buffs.
Evaluation and Future Issues
At exhibitions in Japan, these products have proved popular with children, kit vendors and mechanical buffs, and we have also received a number of inquiries from Paris companies for minor change models.
We have felt the need to reconfigure production lots and prices and review the product contents including ranking models according to appropriate appearance, functions and kit assemble-ability.
Size

W:270mm D:250mm H:300mm

Net weight

1kg
Select from SOMEI-KAN's 18-note TUNE LIST which is shown at the end of this pamphlet.
All music boxes are assembled at SOMEI-KAN workshop, from the stage of music box movement.
Finished Mechanical item is available and The Assembly Unit is under development for possible future sales.
We are currently considering expanding the series to include movements of magic and gestures of child's play.
We can also create original music boxes. (For more information, contact SOMEI-KAN. JAPANESE ONLY)