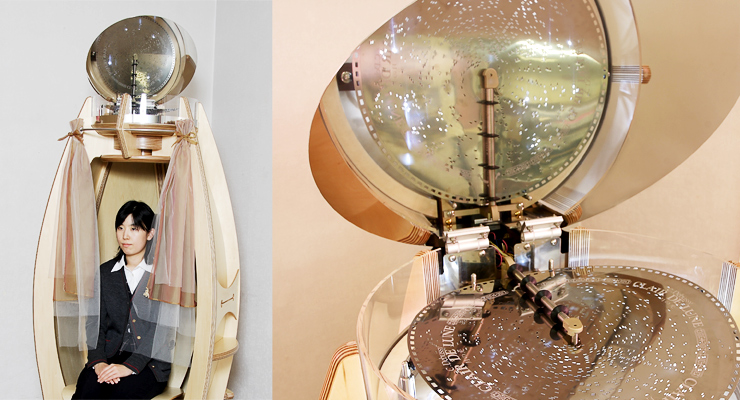 Sit in the cabinet and feel the sound vibration coming from the top while the largest deluxe disc music box available in Japan is playing music live.
Hearing-impaired person also should be able to feel it through the body.
Advance improvement has been made this time to come up with the beautiful body lines of the cabinet and also relaxing space inside, while the superb sound performances are specifically maintained.
Aim of Product Development
As a "relaxation music chamber," this item has high potential for various developments.
In addition to enhancing acoustic performance through the cabinet material and structure, we primarily aim to enable users feel the music box sound quality with their entire body in a relaxing space.
We are also considering leasing for events and so on.
Evaluation and Future Issues
Numerous visitors at the exhibition in Paris who experienced the feeling of being enveloped in sound were surprised and impressed. It will be necessary to make products to order in line with the surrounding environment and conditions, design and ease of use.
Size

W:1,000mm D:1,000mm H:1,800mm

Net weight

80kg
Music box specification
Disc

Diameter: φ16inch
Playing time per revolution: 45 to 60 seconds
Drive: Peripheral sprocket, motor drive

Comb teeth

Comb:160N (80-Note x 2, Double-Comb,Duplex)
80 comb teeth on the sides ring at the same time

Power source

Within Japan: AC100V (corresponding to the countries for sale)

Electrical system

Music is played automatically by the motion sensor
Built-in LED lighting control