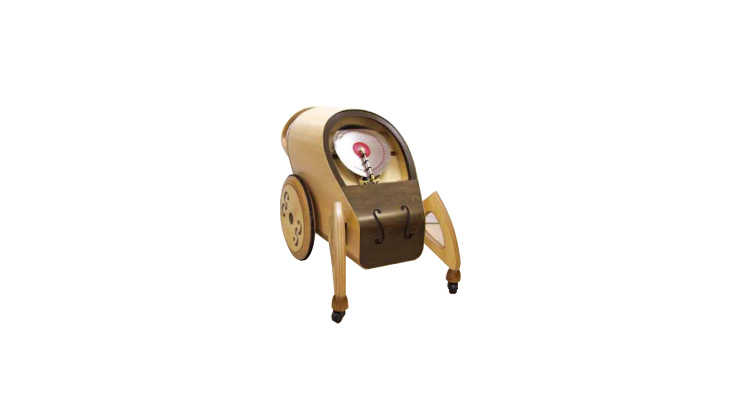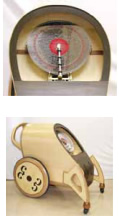 This is the largest disc music box in Japan. It is a hands-on music box product that can be played by turning the handle on the rear and moved by pushing the main body with the arm.
Aim of Product Development
Street organs continue to be popular and can be heard on street corners in Europe and America, and makers of such organs remain active. Through replacing this with a hand-turned music box that can be sung to, rather than music boxes for listening to, we aim to make music boxes that anybody can enjoy playing in performances with other instruments and in parades and so on. We are also considering leasing for events and so on.
Evaluation and Future Issues
Future challenges include developing use by women and children and outdoor use, downsizing and improving operability, safety and durability in line with hand-turning and movement.
Size

W:920mm D:1,336mm H:1,115mm

Net weight

75kg
Music box specification
Disc

Diameter: φ16inch
Playing time per revolution: 45 to 60 seconds
Drive: Peripheral sprocket, motor drive

Comb teeth

Comb:160N (80-Note x 2, Double-Comb,Duplex)
80 comb teeth on the sides ring at the same time

Playing style

Handle turning or forward movement